The fitting details are dependent on the type of headstock and the type of string rollers. Slotted headstocks can have the two types of classical rollers, plain or with bearing bushes, and brass rollers for steel string. Solid headstocks have top bushes which support the end of the rollers.
Headstock Drilling: Rodgers Tuners are precision machined to an accurate 35mm string roller spacing and 10mm diameter string rollers. If your headstock has 13/32″ string roller holes, please select 10.3mm diameter bearing bushes for your rollers when ordering.
Slotted Head Plain Rollers
Fitting Plain Rollers for a Slotted Head Instrument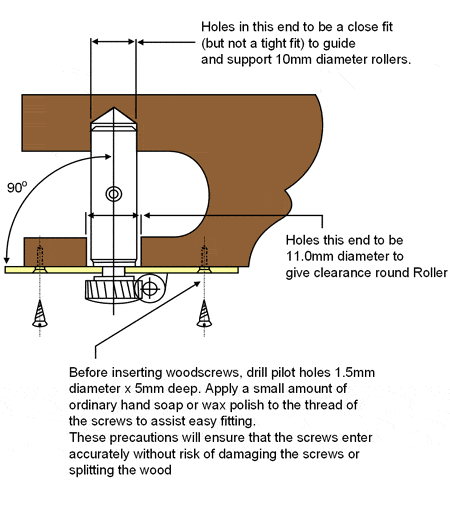 Plain classical rollers rotate plastic to wood inside the headstock.  It is recommended to add a dry lubricant inside the inner hole where the roller located to prevent squeaking and allow for a smoother action.  Bar hand soap or better yet, candle wax works well for this purpose.  Please consider using rollers with bearing bushes instead. More information here.
A clearance hole in the headstock should be used behind the side-plate.  This is to keep the roller properly rotating with its bearing diameter in the side-plate.  This is important because the accuracy and performance of the gears is set by the exact position of the string roller.  It also prevents squeaking of the roller on the wood.
Locate the set on the headstock and mark the woodscrew holes accurately.  Then pilot drill the holes 1.5mm diameter by 5mm deep.  It is important that this is done accurately as poor fitting will affect the precision of the gearing and performance of the tuner.
Slotted Head With Bearing bushes
Slotted Head Steel String
Solid Head Steel String