The fitting details are dependent on the type of headstock and the type of string rollers. Slotted headstocks can have the two types of classical rollers, plain or with bearing bushes, and brass rollers for steel string. Solid headstocks have top bushes which support the end of the rollers.
Headstock Drilling: Rodgers Tuners are precision machined to an accurate 35mm string roller spacing and 10mm diameter string rollers. If your headstock has 13/32″ string roller holes, please select 10.3mm diameter bearing bushes for your rollers when ordering.
Slotted Head With Bearing bushes
Slotted Head Plain Rollers
Slotted Head Steel String
Solid Head Steel String
Slotted Head With Bearing bushes
Tuners with Bearing Bushes for Slotted Head Instruments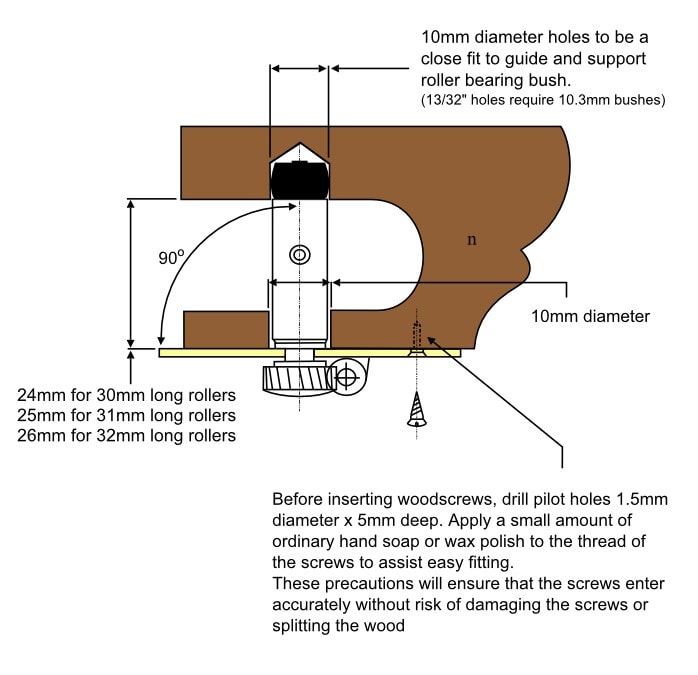 The Bearing bush is located to the string roller and spins freely. The shank of the roller is smaller in diameter eliminating the need for a clearance hole behind the side-plate.
Please note the maximum 24mm distance to ensure full location of the bush and hide it from view. If longer string rollers are required, we have 31mm and 32mm versions which can be selected when ordering.
If you are using an imperial drilling jig which drills the roller holes at 13/32″, we can supply 10.3mm bearing bushes. The 'Y' drill size is 10.26mm so unless it is cutting large, then 10.2mm bushes can be used.
It is however highly recommended to use a 35mm by 10mm drilling jig.
Locate the set on the headstock and mark the woodscrew holes accurately.  Then pilot drill the holes 1.5mm diameter by 5mm deep.  It is important that this is done accurately as poor fitting will affect the precision of the gearing and performance of the tuner.
Slotted Head Plain Rollers
Slotted Head Steel String
Solid Head Steel String