Maintenance, upgrades & damage
Very little is needed for maintenance but the occasional drop of oil keeps everything working perfectly. Here are some tips to help and suggestions for upgrades as well as how to deal with a damaged set.
There are two places to oil and ideally, this should be done every year or so assuming the instrument is used fairly often.
It is advised to remove the set from the headstock or at least have some kitchen towel on hand as you want to avoid oil dripping onto the guitar.
On the button shaft, there is an oil slot in the bracket that fixes the shaft to the plate.   Using a pin  (or syringe with needle), apply 2 drops of oil into this slot.  You can also add a drop on the other bracket.  Turn the button back and forth to work the oil into the slot. 
The gears also require oil.  Apply a small amount around the teeth of the gears.
We suggest 'Finish Line DRY Teflon Lube'. This item is easily available from Amazon in small quantities.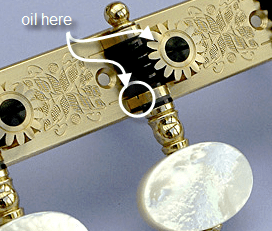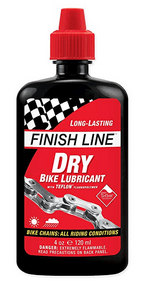 Upgrades and refurbishment
The parts that get the most wear are the string rollers.  Over many years, these parts may need to be swapped for new ones. Or you may prefer to change to rollers for rollers with bearing bushes giving a better feel when tuning.
The buttons can be swapped out but they are not designed to do so.  They are bonded to the shaft to prevent them from vibrating or coming loose.  We can swap synthetic ivory, MoP and recon buttons ok, but not wooden buttons. 
If you have an old set that needs refurbishing, you can send it to us.  Depending on how much work you wish us to do, depends on the price charged.  We have completely dismantled sets reusing just the plate simply because the customer liked the engraved plate design.  Please note, we need a photo of the set to assess the cost and make sure there is no real ivory on the set.
Yep, accidents happen and when a guitar is knocked over, the tuners often take the brunt of the force.  About 10 years ago we made a major design change which doubled the strength of the button shafts.  However, given enough of a knock, anything will bend.  In this case you would need to return the set to us.  We would drill out the shaft from the plate and replace it with new parts.  Sometimes the buttons can be saved, other times they cant.
Damage to string rollers – please see above.