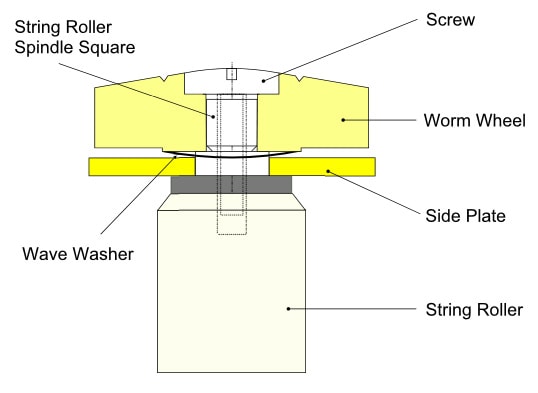 Tooling:
One flat-head screwdriver with a width as close as possible to the width of the screw (not wider than).
When replacing the string rollers, do one roller at a time.
It is important to keep each gear in the same position and not to mix them up.
Unwind the black screw while holding the string roller to the back of
the side-plate and remove the screw.
Hold the gear in position with a finger and pull out the string roller.
Push new roller into position lining up the square.
Wind the screw back in and tighten lightly with the screwdriver.
To check correct positioning of the 'spring washer', move the string roller from side to side.
If it is not loose and springs back square to the side-plate, this is correct.
Wind the button to make sure it feels ok and not tight.
If it is not correct, remove the string roller and re-align the spring washer.